Staircase in kit | BERLIN
Elegant stair in simple and timeless design. The construction makes it possible to turn stair up to 90°. Top-quality wood in oiled oak and beech.
Pick type of wood for treads and handrail - 3 different options:
Our treads and handrails are made of high quality FSC®-certified solid wood sealed with oil. The oil is absorbed into the wood and creates a smooth and almost silky surface where you can see and feel the structure of wood. The oil is a super protection of the wood against water and stains.
BERLIN has got 2 different banister options (you pick it when you configurate):

DESIGN – horizontal fillings Ø10 mm
SHAPE 6 - horizontal Ø6 mm stainless steel fillings
The BERLIN banisters are strong to ensure good safety and quality. Top design with exclusive details. The balusters are mounted so that they provide maximum flexibility to the staircase. See the 2 different banister here or when you configurate the stair.
Rotatable stair:
This stair has great flexibility - you can build it as straight flight or turned it up to a total of 90° (quarter turn) top or bottom turn.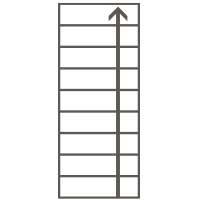 Straight flight
Quarter turn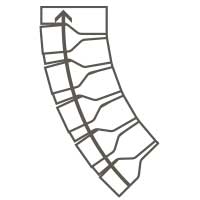 50o turn
Colour - wood combinations:
You pick your colour and wood type combination when you configurate the stair.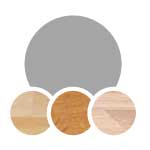 Pearl grey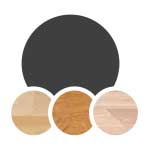 Anthracite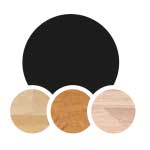 Black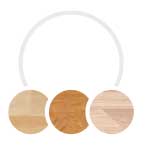 White
Natural oiled solid oak or beech treads, or white oiled solid oak treads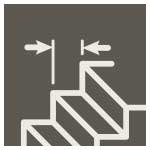 Going
12.9 cm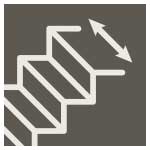 Staircase width
64 cm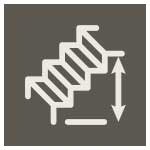 Max. floor-to-floor height
315 cm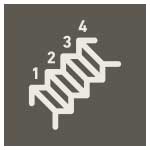 Numbers of treads
10 - 13 treads
Stair in timeless design
BERLIN is a compact staircase with an elegant shape. The construction of the stair gives maximum flexibility and creates a sculptural expression with simple lines. The stair has optional exclusive oiled treads in solid oak and beech. This stair is rotatable: you can build it as straight flight or turned it up to a total of 90°. The space-saving asymmetric reversing treads provide a comfortable tread room (going) even where there is not much room.
Reverse treads - paddle stairs
An ingenious tread shape makes these loft stairs real space-saver stairs. The stair can be turned at the bottom to save even more space. See the DIMENSION-file how they can be turned.